Mon Feb 4, 2013, 02:59 PM
liberal N proud (45,436 posts)
Mitt's son has reportedly been approached by Republican officials about running to fill Kerry's seat
Mitt's son has reportedly been approached by Republican officials about the possibility of running in an April special election to fill John Kerry's seat.
Have a connection to the commonwealth of Massachusetts? Interested in politics? How does a run for John Kerry's vacated Senate seat sound?
These have become familiar questions in Boston political circles, where names ranging from Sen. Ted Kennedy's widow Vicki Kennedy to former Democratic Mass. Gov. Michael Dukakis were mentioned as possible fillers for the interim seat, as well as former Republican Mass. Sen. Scott Brown and actor Ben Affleck for the permanent position.
Now, with Democrat Mo Cowan appointed as interim senator and Brown removing his name from contention, there's another high profile name who may throw his hat into the ring: Tagg Romney.
The Boston Herald reports that Romney, 42, whose father Mitt recently lost his bid to supplant Barack Obama as president of the United States, is considering a run for the vacated seat in an April 30 special election.
http://news.msn.com/politics/report-tagg-romney-weighing-mass-senate-run
Some cannot tolerate when others do not agree with them. This problem is the underlying cause of most conflicts. A little tolerance goes along way to making the world fit together.
10 replies, 676 views
Replies to this discussion thread
| | | | |
| --- | --- | --- | --- |
| 10 replies | Author | Time | Post |
| Mitt's son has reportedly been approached by Republican officials about running to fill Kerry's seat (Original post) | liberal N proud | Feb 2013 | OP |
| | Webster Green | Feb 2013 | #1 |
| | Angry Dragon | Feb 2013 | #2 |
| | Gidney N Cloyd | Feb 2013 | #4 |
| | pa28 | Feb 2013 | #6 |
| | rurallib | Feb 2013 | #3 |
| | sharp_stick | Feb 2013 | #5 |
| | DonViejo | Feb 2013 | #7 |
| | yellowcanine | Feb 2013 | #9 |
| | malaise | Feb 2013 | #8 |
| | OmahaBlueDog | Feb 2013 | #10 |
---
Response to liberal N proud (Original post)
Mon Feb 4, 2013, 03:02 PM
Webster Green (13,902 posts)
1. What are Tagg's qualifications?
Other than being a dickhead? (which I will concede is an important one).
---
Response to Webster Green (Reply #1)
Mon Feb 4, 2013, 03:08 PM
Angry Dragon (24,090 posts)
2. He has high profile and
he is son of LOSER Willard
and Tagg your shit ran his dad's campaign
highly qualified to lose
Torches and Pitchforks to the Front..........King of Light
---
Response to Webster Green (Reply #1)
Mon Feb 4, 2013, 03:14 PM
Gidney N Cloyd (11,293 posts)
4. Only slightly less than W and Jeb when they ran for governor.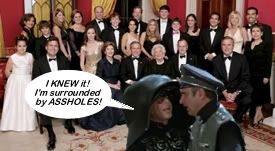 We've got a blind date with destiny. And it looks like she's ordered the lobster.
---
Response to Webster Green (Reply #1)
Mon Feb 4, 2013, 03:17 PM
pa28 (4,069 posts)
6. He wanted to "take a swing" at Obama during the debates.
That probably sealed up support from the racists, gun nuts and mouth breathing overweight white guys who owe money to the IRS and 20k in back child support.

You know, the Republican base.
Free trade is like a house with windows you can't close. Bats, snakes and all manner of predatory beasts will invite themselves inside.
---
Response to liberal N proud (Original post)
Mon Feb 4, 2013, 03:13 PM
rurallib (33,222 posts)
3. this the one that threatened Obama?
Qualifications - has access to a shitload of money.
---
Response to liberal N proud (Original post)
Mon Feb 4, 2013, 03:15 PM
sharp_stick (10,126 posts)
5. The stink of desperation is all over this one
I think these assholes assumed that Scott Brown was going to save them and now that he's decided against a run they've looked at the massive bench talent available to the pukes in MA right now and responded with. "Holy shit we've got nothin'! Find some asshole with a bit of name recognition and get his ass on the ballot."

Funny as hell.
---
Response to liberal N proud (Original post)
Mon Feb 4, 2013, 03:30 PM
DonViejo (6,019 posts)
7. ABC is reporting...
---
Response to DonViejo (Reply #7)
Mon Feb 4, 2013, 03:36 PM
yellowcanine (24,893 posts)
9. Dang. Now what am I going to do with this big bowl of popcorn?
Last edited Mon Feb 4, 2013, 03:37 PM - Edit history (1)
"The biggest problem with the denizens of bullshit mountain is they act like their shit don't stink." - Jon Stewart
---
Response to liberal N proud (Original post)
Mon Feb 4, 2013, 03:34 PM
malaise (113,142 posts)
8. Does the name Alan Stanford ring a bell??
http://www.thenation.com/blog/170546/tagg-romneys-company-misled-reporters-about-its-relationship-ponzi-scheme-linked-firm
<snip>
The private equity firm run by Tagg Romney—Mitt's eldest son, who is now taking a leadership role in guiding his father's presidential campaign—misled reporters last year about its involvement with a company run by men accused of taking part in a multibillion-dollar Ponzi scheme.
Last year, I reported that Tagg had formed a business partnership with several North Carolina investors who are still facing a lawsuit for receiving bonus pay for selling CDs as part of the $8 billion Stanford Financial Group Ponzi scheme.
In a nutshell, Tagg helped these investors form a company—called Solamere Advisors, a nod to Tagg's firm Solamere Capital—shortly after their boss, Allen Stanford, was caught by law enforcement for his elaborate Ponzi fraud.
http://www.dailykos.com/story/2012/06/14/1100163/-Did-Tagg-Romney-Launder-Money-with-R-Allen-Stanford
<snip>
Mitt Romney invested $10 million in a Ponzi scheme run by Tagg and his buddies until the SEC caught up with ripoff artist R. Allen Stanford.
Mitt Romney, his son Tagg, and Romney's chief fundraiser, Spencer Zwick, have extensive financial and political ties to three men who allegedly participated in an $8.5 billion Ponzi scheme. A few months after the Ponzi scheme collapsed, a firm financed by Mitt Romney and run by his son and chief fundraiser partnered with the three men and created a new "wealth management business" as a subsidiary.
In an exclusive interview with ThinkProgress, Tagg Romney confirmed their business relationship, but falsely claimed that the men were cleared of any wrongdoing associated with the Ponzi scheme. Tagg Romney told ThinkProgress that his three partners collected about $15,000 from their involvement in the Ponzi scheme. Court documents obtained by ThinkProgress show that the legal proceedings are ongoing and the men made over $1.6 million selling fraudulent CDs to investors.
---
Response to liberal N proud (Original post)
Mon Feb 4, 2013, 03:38 PM
OmahaBlueDog (9,566 posts)
10. Similar Article
http://theweek.com/article/index/239658/should-tagg-romney-run-for-the-senate-seat-in-massachusetts
Last week, former Sen. Scott Brown of Massachusetts (R) announced that he would not run in a special election on June 25 to fill the Senate seat recently vacated by Secretary of State John Kerry. That has left the Republican Party in Massachusetts in a bit of a pickle, and the state GOP is reportedly scrambling to find a candidate with name recognition who can challenge the Democrats. One possibility? Tagg Romney, the eldest son of Mitt Romney. Tagg is considering a run, says Hillary Chabot at the Boston Herald:

The eldest son of former governor and presidential candidate Mitt Romney already has statewide name recognition and could quickly ramp up the campaign infrastructure for a short, five-month race.

The father of six was a regular on the campaign trail in both of his father's failed races for president in 2008 and 2012, which would give him some political know-how while working to win over Bay State voters.
With the election happening so soon, "money and name recognition have the best chance to sway voters," writes Ed Morrissey at Hot Air.

Whether Tagg is really interested (ABC News says he's not) is still a subject of debate, and one glaring negative alone should be enough for him to think twice: His father lost Massachusetts by a whopping 23 percentage points in 2012. In other words, the Romney name would surely be recognized, but that would probably hurt Tagg more than it would help him, especially with the last election so fresh in voters' minds.
President Obama is not defending health care. He's defending the health of our democracy. Every American who cherishes that should stand with him. Thomas L. Friedman