Sat Feb 2, 2013, 07:58 PM
HarveyDarkey (8,137 posts)
9 replies, 828 views
Replies to this discussion thread
| | | | |
| --- | --- | --- | --- |
| 9 replies | Author | Time | Post |
| Another good question (Original post) | HarveyDarkey | Feb 2013 | OP |
| | WHEN CRABS ROAR | Feb 2013 | #1 |
| | datasuspect | Feb 2013 | #2 |
| | peace13 | Feb 2013 | #3 |
| | Egalitarian Thug | Feb 2013 | #4 |
| | awoke_in_2003 | Feb 2013 | #5 |
| | pasto76 | Feb 2013 | #6 |
| | freshwest | Feb 2013 | #8 |
| | mwooldri | Feb 2013 | #7 |
| | Recursion | Feb 2013 | #9 |
---
Response to HarveyDarkey (Original post)
Sat Feb 2, 2013, 08:04 PM
WHEN CRABS ROAR (2,727 posts)
1. From the perspective of an 71 year old, our culture has become more violent and fearful.
it's not just the amount of guns, or the type of guns. It's the conditioning of believing in the need of violence to solve our problems. It's the believing in the need have a weapon at all times to defend yourself. An example would be, how we could possibly do without cellphones or GPS systems and yet, for the majority of my life we all got along just fine, the same holds true for guns, the belief that you need one to defend yourself is relatively new thinking. We just didn't think that way in the fifties and sixties.
Our culture needs to be dialed back to be more peaceful and less fearful.
Stop thinking that you need the newest corporate toys, use your critical thinking and learn to say no to fear

---
Response to HarveyDarkey (Original post)
Sat Feb 2, 2013, 08:09 PM
datasuspect (26,591 posts)
2. when the drug war become a profit center for law enforcement
Haul Ass, Get Paid | United We Stand, Divided We Beg | Gas, Grass, or Ass: No One Rides for Free
---
Response to HarveyDarkey (Original post)
Sat Feb 2, 2013, 09:20 PM
peace13 (8,710 posts)
3. 9/11 boo be afraid! N/ t
---
Response to HarveyDarkey (Original post)
Sat Feb 2, 2013, 10:42 PM
Egalitarian Thug (10,688 posts)
4. As with most of the degradation of America, in the 80s.
Daryl Gates turned the ineffective, corrupt, and incompetent LAPD into a quasi military organization of ineffective, corrupt, incompetent, racists that made white suburbanites feel safer, and got a special award from St. reagan for doing it.

If ye love wealth better than liberty, the tranquility of servitude than the animated contest of freedom, go from us in peace. We ask not your counsels or arms. Crouch down and lick the hands which feed you. May your chains sit lightly upon you, and may posterity forget that you were our countrymen! ~Samuel Adams
---
Response to HarveyDarkey (Original post)
Sat Feb 2, 2013, 10:46 PM
awoke_in_2003 (21,030 posts)
5. It started around the mid 80s...
I still remember the 70s as a kid, talking to cops that looked like those on the left. I told one I talked to that I wanted to be a police man when I grew up. One day he said he had a present for me. He gave me a doctor's penlight and told me to use my brains and become a doctor. I followed half of his advice- I used my brains and got into flight simulation.
There are two types of people in the world- those who support marriage equality and those who are assholes
---
Response to HarveyDarkey (Original post)
Sat Feb 2, 2013, 10:57 PM
pasto76 (1,458 posts)
6. maybe when the bad guys started toting the same stuff the afghani mujahadeen did
the guys on the left, with their quaint service revolvers are in no way imaginable a match for today's bad guys.

the guys on the left responded to Whitman in 1966. martinez fired all 6 rounds of his service revolver from a distance of 50 feet and missed with all 6. You cant go after a sniper with a 6 shooter. Have any of you realized that the attempted hysteria that is constantly stirred up on DU about "militarized" police...is the exact same thing the gun nuts are screaming about?
---
Response to pasto76 (Reply #6)
Sun Feb 3, 2013, 01:45 AM
freshwest (37,145 posts)
8. I think one feeds the other. Remember the bank robbery shoot out in CA years ago?
The police had handguns, rifles (but kept locked in their trunks) and were attacked with automatics they weren't prepared for and I saw the results on the news later. It was a bloodbath. I think some men and woman officer were killed or badly shot. They were in no way prepared to deal with what was on the street that day.

I'm not sure where the weaponry the robbers had came from, but it was a wake up call. Since the Brady bill or whatever it was expired or was repealed (sorry, this is something I don't keep track of) there were changes and people began getting more military style weapons - the kind the police didn't have.

It was about that time there were more kinds of 'non-lethal' weapons making the news, and people were buying them too. Pepper spray, tazers, etc. I'm not sure when the gates opened up and people starting buying the ones we see in these recent killing sprees. It's tit for tat. I think the escalation was from the public, and the gun manufacturers. There were stories of attempts to ban some kinds of bullets that went thorugh police vests, etc. And when we see these news stories of crimes going on that I've seen in DU - people are freaked out anyway.

I won't get into a debate on the terms for these guns, or the definitions. I don't care - I'm not in gun school. Not interested.

I don't believe the police started this; but damned if the munitions and arms makers didn't escalate it all for profit. And DHS saw a way to make a killing off contracts. We are awash with guns like a war zone.

I want this to back up as soon as it can.


---
Response to HarveyDarkey (Original post)
Sat Feb 2, 2013, 11:21 PM
mwooldri (6,145 posts)
7. Remember when "this" was the so-called "normal"?
Andy Griffith...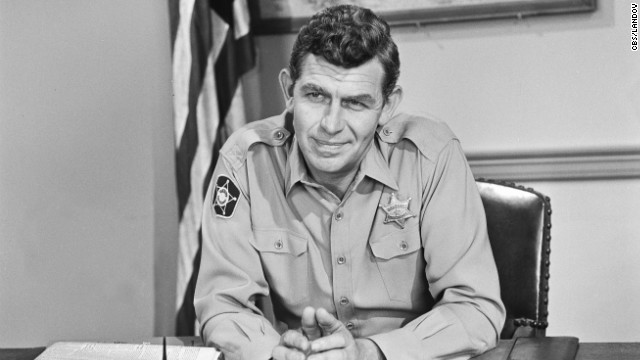 Dixon of Dock Green...
Z-Cars:
Even the darned Flying Squad (The Sweeney) in Brit TV changed - 1970's...
but the remake as a movie in 2012 resulted in this?
---
Response to HarveyDarkey (Original post)
Sun Feb 3, 2013, 01:48 AM
Recursion (31,388 posts)
9. Philly, 1964
Last edited Sun Feb 3, 2013, 01:49 AM - Edit history (1)
That's when SWAT came into being, at least.
What kills me not had better start running