Thu Jan 10, 2013, 09:17 AM
bigtree (50,901 posts)
Joe Biden Muscles Walmart Into Gun Talks
Giant retailer Walmart which sells guns in 1650 of its 4000 stores, initially turned down a White House invitation to send a representative to a meeting with Mr Biden. But the store changed its mind on Wednesday.
Walmart's vice-president of corporate communications David Tovar said the company was ''sending an appropriate representative to participate''.
''We take this issue very seriously and are committed to staying engaged in this discussion as the administration and Congress work towards a consensus on the right path forward,'' he said.
Mr Tovar said Walmart had ''underestimated the expectation to attend the meeting on Thursday in person'' after having had ''ongoing conversations'' with officials in the administration, Congress and others with a stake in the gun control debate.
Referring to the Newtown shootings, Mr Biden told the group: ''I don't think anything has touched the heart of the American people so profoundly as seeing those - learning of those young children not only being shot but riddled with bullets. Every once in a while there's something that awakens the conscience of the country, and that tragic event did in a way like nothing I've seen in my career.''
read:
http://www.watoday.com.au/world/walmart-relents-joins-bidens-gun-control-talks-20130110-2cj1h.html
6 replies, 617 views
Replies to this discussion thread
| | | | |
| --- | --- | --- | --- |
| 6 replies | Author | Time | Post |
| Joe Biden Muscles Walmart Into Gun Talks (Original post) | bigtree | Jan 2013 | OP |
| | graham4anything | Jan 2013 | #1 |
| | malaise | Jan 2013 | #2 |
| | bigtree | Jan 2013 | #3 |
| | Kber | Jan 2013 | #4 |
| | 2theleft | Jan 2013 | #5 |
| | Javaman | Jan 2013 | #6 |
---
Response to bigtree (Original post)
Thu Jan 10, 2013, 09:22 AM
graham4anything (11,464 posts)
1. Go Joe!
As Abraham Lincoln stated,We could not secure the good we did secure if we grasped for more.LBJ-Lincoln-Carter-Obama-FDR. 5 best of all time.LBJ said-Any jackass can kick down a barn but it takes a good carpenter to build one.Hillary45 to continue the President Obama agenda for 8 more years.Michelle Obama in 2024
---
Response to bigtree (Original post)
Thu Jan 10, 2013, 09:24 AM
malaise (113,177 posts)
2. Fugg Mr Tovar and every Walmart Exec n/t
---
Response to malaise (Reply #2)
Thu Jan 10, 2013, 09:41 AM
bigtree (50,901 posts)
3. yep, they can get fugged. nt.
---
Response to bigtree (Original post)
Thu Jan 10, 2013, 10:04 AM
Kber (3,542 posts)
4. Underestimated the need to attend?
The Veep invites you to a meeting, you go. What's so complicated? You really got something more important to do?
---
Response to Kber (Reply #4)
Thu Jan 10, 2013, 10:08 AM
2theleft (615 posts)
5. +1 I mean,
I get invited to a meeting with a VP at my company, I change my entire schedule to go. And he is one of 100's of VPs...not THE VP.

Idiots. Idiots. Idiots. They are everywhere.
Morality is doing what is right regardless of what you are told. Religion is doing what you are told regardless of what is right.
---
Response to bigtree (Original post)
Thu Jan 10, 2013, 10:10 AM
Javaman (41,907 posts)
6. wally world probably feared they were going to be cut out of the equation.
and begin to suffer the poor PR the nra is now experiencing.

so be prepared for the platitudes and the fake sympathy from wally world.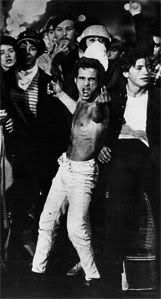 The Tea Party: The hopelessly stupid lead by the willfully corrupt.