Mon Dec 24, 2012, 06:17 PM
The Straight Story (45,615 posts)
Gary Gygax explains why Christians shouldn't celebrate Christmas
Gary Gygax explains why Christians shouldn't celebrate Christmas
Gary Gygax, co-inventor of Dungeons and Dragons, published this note explaining why Christians (like him) shouldn't celebrate Christmas.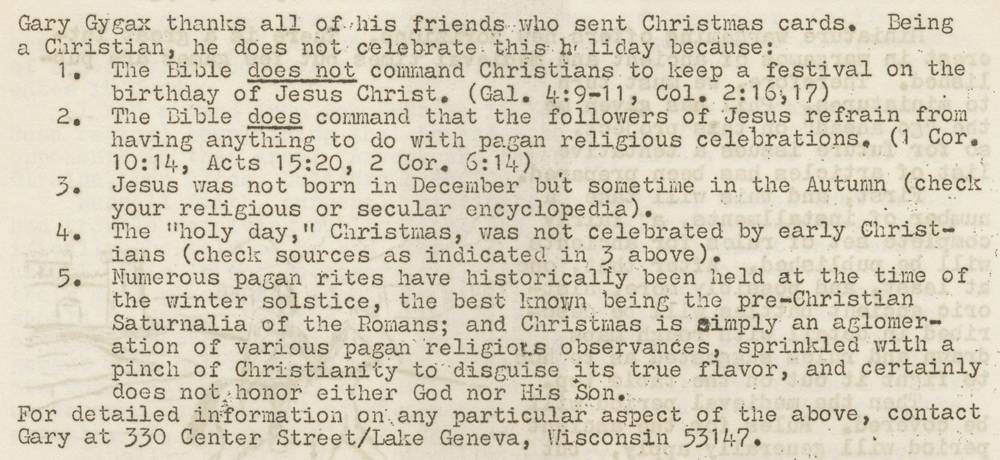 note from Gary Gygax in the IFW Monthly of February 1969. A topical historical curiosity, yes, but what does it tell us about who Gary was back then? First of all, he strongly self-identified as a Christian, an important counterpoint to the fundamentalist backlash against his later fantasy-themed games. Gary approached Christianity as a system with rules, which he researched and explored through a strict historical lens. If his readings differed from mainstream conventions, he was never one to bow to popular opinion. Sometimes he took things too seriously, sacrificing fun for accuracy. He was never shy about sharing his ideas and defending his position in public, but respectfully acknowledges the existence of dissenting views. These are all qualities we see reflected in his subsequent career as a game designer.
http://boingboing.net/2012/12/24/gary-gygax-explains-why-christ.html
Heh.
This sig line was locked by a jury
5 replies, 642 views
Replies to this discussion thread
| | | | |
| --- | --- | --- | --- |
| 5 replies | Author | Time | Post |
| Gary Gygax explains why Christians shouldn't celebrate Christmas (Original post) | The Straight Story | Dec 2012 | OP |
| | OneMoreDemocrat | Dec 2012 | #1 |
| | htuttle | Dec 2012 | #2 |
| | CJCRANE | Dec 2012 | #3 |
| | tjwash | Dec 2012 | #4 |
| | Xolodno | Dec 2012 | #5 |
---
Response to The Straight Story (Original post)
Mon Dec 24, 2012, 06:37 PM
OneMoreDemocrat (913 posts)
1. I guess I can agree with him...
Happily though for the rest of us who enjoy this time of year, 'Christmas' hasn't been about religion for a long, long time, and I for one am OK with that.

It's really cool to have a time of year when people are nice to each other and in a good mood...except of course the people who bitch about how commercial it is (of course they'd bitch about how noncommercial it was if it wasn't; come to think of it they'd find something to bitch about one way or the other).

---
Response to The Straight Story (Original post)
Mon Dec 24, 2012, 06:39 PM
htuttle (21,256 posts)
2. It figures that he'd turn out to be a grognard about the *Bible*, too
---
Response to The Straight Story (Original post)
Mon Dec 24, 2012, 06:48 PM
CJCRANE (13,824 posts)
3. Christians should only celebrate Christmas
if they roll under their Constitution stat using 3d6.
---
Response to The Straight Story (Original post)
Mon Dec 24, 2012, 07:17 PM
tjwash (8,171 posts)
4. he was a biblical rules-lawyer?
---
Response to The Straight Story (Original post)
Mon Dec 24, 2012, 07:22 PM
Xolodno (513 posts)
5. Oh I can't resist...allow me to add to the list:
Jeremiah 10

Thus says the LORD: "Learn not the way of the nations,
nor be dismayed at the signs of the heavens
because the nations are dismayed at them,
for the customs of the peoples are false.
A tree from the forest is cut down,
and worked with an axe by the hands of a craftsman.
Men deck it with silver and gold;
they fasten it with hammer and nails
so that it cannot move.

and Reveleation 11

And when they have finished their testimony, the beast that ascends from the bottomless pit will make war upon them and conquer them and kill them,
and their dead bodies will lie in the street of the great city which is allegorically called Sodom and Egypt, where their Lord was crucified.
For three days and a half men from the peoples and tribes and tongues and nations gaze at their dead bodies and refuse to let them be placed in a tomb,
and those who dwell on the earth will rejoice over them and make merry and exchange presents, because these two prophets had been a torment to those who dwell on the earth.