Mon Dec 3, 2012, 12:16 AM
Agschmid (27,588 posts)
12 replies, 1716 views
Replies to this discussion thread
| | | | |
| --- | --- | --- | --- |
| 12 replies | Author | Time | Post |
| Is Apple manufacturing back in the good ole' US of A? (Original post) | Agschmid | Dec 2012 | OP |
| | PoliticAverse | Dec 2012 | #1 |
| | freshwest | Dec 2012 | #2 |
| | JustAnotherGen | Dec 2012 | #3 |
| | hobbit709 | Dec 2012 | #4 |
| | Egalitarian Thug | Dec 2012 | #5 |
| | Agschmid | Dec 2012 | #6 |
| | nadinbrzezinski | Dec 2012 | #7 |
| | Agschmid | Dec 2012 | #8 |
| | nadinbrzezinski | Dec 2012 | #9 |
| | mimi85 | Dec 2012 | #11 |
| | Agschmid | Dec 2012 | #10 |
| | pstokely | Dec 2012 | #12 |
---
Response to Agschmid (Original post)
Mon Dec 3, 2012, 12:49 AM
PoliticAverse (16,228 posts)
1. It may just be that custom versions are assembled in the US..
(From:
http://tech.fortune.cnn.com/2012/12/01/apple-assembled-usa-imac/
)

As it turns out, this is not the first time the assembled-in-USA question has come up. There are several threads on the topic in the Apple support site dating back to 2006. The consensus seems to be that only units made to order -- say, with an extra-high-capacity hard drive -- get their final assembly in the States.

---
Response to Agschmid (Original post)
Mon Dec 3, 2012, 02:02 AM
freshwest (53,661 posts)
2. There was a story of an interview Obama had with Steve Jobs before he died.
The sentence that struck me was Obama asking him, 'When can we get Apple production moved back to the United States?'

Unfortunately, Jobs is reported to have told him 'Never.'
Reasons were something like they'd sold the equipment to Chinese firms or had long-term contracts.

This looks like an attempt to get some manufacturing jobs here. Obama has traveled the world to get those. They aren't mentioned in mainstream media, but it actually has happened.

There are a number of products that have the essential components manufactured abroad and their final assembly is here. It was interesting that Romney was interviewed on this subject. He said that we didn't want the dirty manufacturing jobs here in the USA, so let the other countries deal with the health hazards of them.

It's always been the case that a lot of our high-tech toys come from dirty manufacturing. I'm not talking about what are called the clean rooms for some components, but the metal, plastic and mineral production cause worker health and environmental problems.

This is why the GOP thinks getting rid of the EPA is good for business, as well as depressing labor costs. They claim that is necessary to make goods here. At one time we did both here, and paying good wages. I think tax policy will have to come down hard on them.

I don't know what it would take or how this will work in the future. We certainly are still a consumer society and want all of these. I enjoy my Apple products and would appreciate them being made here. I have bought products such as the article describes, as I prefer the refurbished models. They are quick to ship and it seems the Apples supply chain works well for the most part.

---
Response to Agschmid (Original post)
Mon Dec 3, 2012, 06:32 AM
JustAnotherGen (22,977 posts)
3. Not really
CBP for tariff purposes requires us to identify what we bring into our Distribution Centers by Country of Origin. Apple confirmed this for me as Made in China last week.
With Conflict Minerals Resolution this is going to get a bit sticky in the coming months. And at the end of the day - country of origin doesn't matter.
The only people that have the absolute power to change the country of origin is the Apple Consumer. They aren't willing to change their behavior so Apple isn't forced to change theirs.
---
Response to Agschmid (Original post)
Mon Dec 3, 2012, 06:35 AM
hobbit709 (41,694 posts)
4. Assembled-not manufactured.
All the pieces come out of China.
---
Response to Agschmid (Original post)
Mon Dec 3, 2012, 07:02 AM
Egalitarian Thug (12,448 posts)
5. Every big corporation manufactures or assembles a small number of their products in America.
Other examples are, Nike makes a few thousand pairs of shoes here and Intel makes a few thousand processors and systems. There are certain tax advantages and regulatory requirements.

So technically they are, but really the answer is no.

---
Response to Agschmid (Original post)
Wed Dec 5, 2012, 11:36 AM
Agschmid (27,588 posts)
6. Update at link...

"There are multiple reports that some of the new 21.5-inch iMacs are shipping with an "Assembled in USA" label.
Fortune is reporting that one of their readers walked into a San Jose, California Apple Store and purchased an off-the-shelf iMac that was assembled in the United States. During their teardown, iFixIt also found that their iMac was assembled in the USA, as shown in the photo below."
http://www.macrumors.com/2012/12/02/some-new-imacs-are-assembled-in-the-usa/
---
Response to Agschmid (Original post)
Wed Dec 5, 2012, 11:46 AM
nadinbrzezinski (154,021 posts)
7. If they are, hope they expand to the whole line
I suspect they are, if they are, trying to get ahead of major policy changes.
---
Response to nadinbrzezinski (Reply #7)
Wed Dec 5, 2012, 12:01 PM
Agschmid (27,588 posts)
8. I remember an interview
with Jobs, and Jobs mentioned something about how the US does not even have the infrastructure for this kind of production anymore. It would be great if they found a way to make it happen.

Heck if my they could tell me that my computer was made in the US I'd be more likely to upgrade more often!
---
Response to Agschmid (Reply #8)
Wed Dec 5, 2012, 12:50 PM
nadinbrzezinski (154,021 posts)
9. Jobs was against it
But sadly for his family he is no longer among the living.

Also we need to expand this for national security reasons. I smell they are testing the waters, which is intelligent. You can force companies to do this by a few changes in the tax code.
---
Response to nadinbrzezinski (Reply #9)
Sat Dec 8, 2012, 07:31 PM
mimi85 (1,786 posts)
11. I read that also...
And according to the article I read in the LA Times, Jobs wasn't into a small iPad.
---
Response to Agschmid (Original post)
Thu Dec 6, 2012, 10:00 PM
Agschmid (27,588 posts)
10. Well the answer is "Yes"... sort of.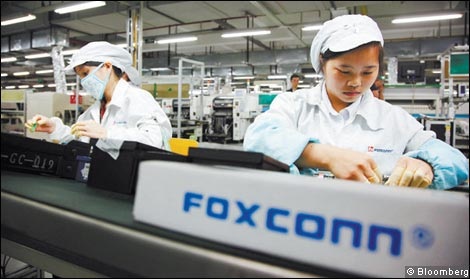 Just as Apple CEO Tim Cook has revealed that Apple will be bringing some Mac production back to the United States next year, Bloomberg reports that Apple's manufacturing partner Foxconn is seeking to expand into the country.
"We are looking at doing more manufacturing in the U.S. because, in general, customers want more to be done there," Louis Woo, a Foxconn spokesman, said in a phone interview. He declined to comment on individual clients or specific plans.
"Supply chain is one of the big challenges for U.S. expansion," Woo said. "In addition, any manufacturing we take back to the U.S. needs to leverage high-value engineering talent there in comparison to the low-cost labor of China."
Neither Apple nor Foxconn has confirmed that the two companies will be working together on U.S. Mac production, but Cook noted that Apple's $100 million investment in domestic production would involve "working with people".
Read more:
http://www.macrumors.com/2012/12/06/foxconn-planning-u-s-expansion-alongside-apples-push-for-domestic-mac-production/
---
Response to Agschmid (Original post)
Sun Dec 9, 2012, 12:21 AM
pstokely (8,592 posts)
12. But where?
probably right to work (for less) states