Wed Oct 24, 2012, 08:57 AM
marmar (63,312 posts)
Auschwitz Photographer Wilhelm Brasse Dies
from Der Spiegel:
The photographer who took pictures of tens of thousands of Auschwitz prisoners during World War II died on Tuesday. Almost seven decades after the end of the war, Wilhelm Brasse's pictures preserve the memory of Holocaust victims.
Wilhelm Brasse, the man responsible for innumerable photographs of prisoners in the Auschwitz concentration camp, died on Tuesday at the age of 95 in his hometown of Zywiec in Southern Poland. As a prisoner of the Nazis himself, Brasse took pictures of fellow inmates at the death camp as well as portraits of SS officers stationed at the infamous facility. He once estimated that he photographed between 40,000 to 50,000 prisoners.
Brasse was born in Austria in 1917 to an Austrian father and Polish mother and grew up in Southern Poland. He learned photography from aunt in the Polish city of Katowice.
When the Nazi army invaded Poland in 1939 he refused to pledge his allegiance to the Germans and joined the Polish army instead. He was captured by the Nazis as he was trying to cross the Hungarian border in 1940. After again refusing to declare his loyalty to Adolf Hitler, he was sent to the newly opened camp at Auschwitz-Birkenau in August 31, 1940. ................(more)
The complete piece is at:
http://www.spiegel.de/international/europe/auschwitz-photographer-wilhelm-brasse-dies-a-863100.html
"For to be free is not merely to cast off one's chains, but to live in a way that respects and enhances the freedom of others." -- Nelson Mandela
6 replies, 1163 views
Replies to this discussion thread
| | | | |
| --- | --- | --- | --- |
| 6 replies | Author | Time | Post |
| Auschwitz Photographer Wilhelm Brasse Dies (Original post) | marmar | Oct 2012 | OP |
| | xchrom | Oct 2012 | #1 |
| | tblue | Oct 2012 | #2 |
| | Octafish | Oct 2012 | #3 |
| | Barack_America | Oct 2012 | #4 |
| | Brickbat | Oct 2012 | #5 |
| | Vidar | Oct 2012 | #6 |
---
Response to marmar (Original post)
Wed Oct 24, 2012, 09:09 AM
xchrom (97,410 posts)
1. ...
La Lioness said I'm Princess Spice. So there.
---
Response to marmar (Original post)
Wed Oct 24, 2012, 09:25 AM
tblue (15,293 posts)
2. Oh my gosh, can you imagine
what he saw and immortalized?

Thanks for sharing. Was not familiar with his name but I have for certain seen his work.

I always wonder, when I see pics of a tragedy, who was on the other side of the camera, how they came to be there, how and why they took the shot, and how it felt to do it, how it felt to be a witness creating a testimony of horrible tragedy, whether they wished they could do more than document the event, whether they could have and whether they had any choice, and whether they can bear to look at their work if it evokes haunting memories, and whether that haunting diminishes over time .
I believe in Dog.
---
Response to marmar (Original post)
Wed Oct 24, 2012, 09:32 AM
Octafish (37,040 posts)
3. Unlike BFEE and its enablers, 'he refused to pledge his allegiance to Hitler.'
Mr. Brasse was an extraordinary human being whose example shows what people are capable of becoming.
OTOH...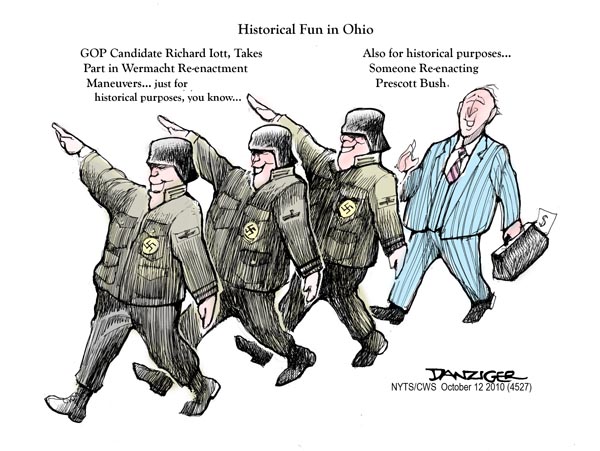 Know your BFEE: Hitler s Bankers Shaped Vietnam War
'Those of us who had worked for the Kennedy election were tolerated in the government for that reason and had a say, but foreign policy was still with the Council on Foreign Relations people.' -- J.K. Galbraith
---
Response to marmar (Original post)
Wed Oct 24, 2012, 09:44 AM
Barack_America (24,958 posts)
4. His good work was done.
---
Response to marmar (Original post)
Wed Oct 24, 2012, 09:48 AM
Brickbat (15,387 posts)
5. K&R.
Union is my religion.
---
Response to marmar (Original post)
Wed Oct 24, 2012, 06:45 PM
Vidar (18,335 posts)
6. RIP, Mr. Brasse.