Tue Oct 9, 2012, 03:00 PM
trailmonkee (2,605 posts)
Thin-Skinned CEO Jack Welch Quits Fortune, Reuters After His Demented BLS Tweet Gets Criticized
http://www.huffingtonpost.com/2012/10/09/jack-welch-quits-fortune-reuters_n_1951781.html?utm_hp_ref=tw
Well, all of the criticism has apparently gotten to Welch, and now he will, in a fit of pique, take his leave from Fortune magazine and Reuters, where he had previously been a contributor. As Fortune's own Stephen Gandel reports:
Welch said he will no longer contribute to Fortune following critical coverage of the former CEO of General Electric, saying he would get better "traction" elsewhere. On Friday, Welch suggested that the Obama administration, calling them "these Chicago guys," had manipulated the monthly jobs report in order to make the economy look better than it actually is just weeks before the election. Welch has been battered by criticism since making the suggestion on Twitter.
Welch apparently ended up at odds with various journalistic institutions that placed a higher premium on providing readers with objectively rational information about the economy, as opposed to flattering an old executive who sows derangement on the Internet. According to Gandel, Welch did not take kindly to a CNN Money piece that criticized Welch's original tweet, and was further angered by a Fortune piece, "detailing Welch's record as a job destroyer."
Gandel goes on to report that after these stories were published, "Welch sent an e-mail to Reuters' Steve Adler and Serwer saying that he and his wife Suzy, who have jointly written for Reuters and Fortune in the past, were 'terminating our contract' and will no longer be sending our 'material to Fortune.'"
11 replies, 1242 views
Replies to this discussion thread
| | | | |
| --- | --- | --- | --- |
| 11 replies | Author | Time | Post |
| Thin-Skinned CEO Jack Welch Quits Fortune, Reuters After His Demented BLS Tweet Gets Criticized (Original post) | trailmonkee | Oct 2012 | OP |
| | oviedodem | Oct 2012 | #1 |
| | patrice | Oct 2012 | #2 |
| | CanonRay | Oct 2012 | #3 |
| | Frustratedlady | Oct 2012 | #4 |
| | quinnox | Oct 2012 | #5 |
| | Stinky The Clown | Oct 2012 | #6 |
| | HangOnKids | Oct 2012 | #8 |
| | Gold Metal Flake | Oct 2012 | #7 |
| | bkurth | Oct 2012 | #9 |
| | bluestate10 | Oct 2012 | #10 |
| | winstars | Oct 2012 | #11 |
---
Response to trailmonkee (Original post)
Tue Oct 9, 2012, 03:04 PM
oviedodem (1,824 posts)
1. More than likely politely asked to step aside. Maybe now he and trump can get a room somewhere
---
Response to trailmonkee (Original post)
Tue Oct 9, 2012, 03:05 PM
patrice (47,992 posts)
2. Are things NOT actually improving for Jack Welch? *W*H*Y* is that? Hmmmm?
FOUR!!!! Fingers.
---
Response to trailmonkee (Original post)
Tue Oct 9, 2012, 03:06 PM
CanonRay (5,125 posts)
3. He's a rich, nasty old fart who has always gotten his way
and can't take being criticized, let alone be called out for being wrong.
Real men are responsible for their actions, respect women, care for children, admit their mistakes and try to be better persons, are thoughtful and considerate, advocate peace and practice civility
---
Response to trailmonkee (Original post)
Tue Oct 9, 2012, 03:06 PM
Frustratedlady (9,186 posts)
4. Good! Maybe that will open up a couple slots for a younger writer or two...
Last edited Tue Oct 9, 2012, 03:07 PM - Edit history (1)
What was he doing in the job market with all those millions he ran off with from GE? If he's bored, get involved in charity or whittle.
---
Response to trailmonkee (Original post)
Tue Oct 9, 2012, 03:09 PM
quinnox (18,558 posts)
5. meh, never cared what he had to say anyway
Sounds like he can't take the heat.
---
Response to trailmonkee (Original post)
Tue Oct 9, 2012, 03:10 PM
Stinky The Clown (52,703 posts)
6. Welch has found a new gig, actually. An angry, deranged old garden gnome model.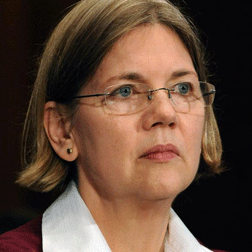 I can worry about 2014 while dreaming about 2016.
---
Response to Stinky The Clown (Reply #6)
Tue Oct 9, 2012, 03:39 PM
HangOnKids (3,710 posts)
8. Please Stinky Most Garden Gnomes Are SWEET!
Welch is a deranged old gasbag.
---
Response to trailmonkee (Original post)
Tue Oct 9, 2012, 03:36 PM
Gold Metal Flake (13,790 posts)
7. The father of outsourcing finally going Galt?
Maybe he can take a trip and visit all of GE's high-tech intellectual property in China where he sent it.
Pervasive government surveillance used to be the measure by which free societies defined themselves against their totalitarian rivals. -Dan Perkins
---
Response to trailmonkee (Original post)
Tue Oct 9, 2012, 09:20 PM
bkurth (12 posts)
9. My buddy Jack Welch (a personal encounter)
I'm an old advertising guy who met with Jack Welch in his gigantic office in Fort Fairfield (everyone's name for it) in about 1974 or so. It was just after GE had moved from their longtime offices at 570 Lexington Avenue in NYC, and just before Jack was named Supreme Dickwad of one of the largest companies on earth. I'd worked on the GE corporate account at BBDO for several years, and I left to start my own small ad agency. Our little agency got several small but strategic assignments from GE. Then a small but growing division of GE, GE Credit Corporation, suddenly found itself in the clutches of a small, corrupt New Jersey ad agency, and it had to conduct a very public effort to extricate itself. My tiny little agency, which had completed a few successful projects for GE, was invited to compete for the business, which of course we did. But after several weeks (months?), Jack Welch called off the competition and assigned the business to BBDO without a review. I then wrote Jack Welch the rudest letter I've ever sent to anyone about anything. I said you're hiring BBDO based on it's past performance, but for the last several years, that performance has substantially included my work.
To his credit, Jack had his secretary call me to set up a meeting. In a panic, I called everyone I knew at GE. What should I ask of him? What did I need to know? Nobody I'd worked with at GE had ever met the man, but they all had stories, He's an asshole and a bully I was told -- for example, if you're overweight, he'll call you fat in front of your co-workers and refuse to listen to you. Nice guy. But ultimately, I learned that Jack had his own problem. He is a stutterer, and I was warned to p-p-p-pay no attention. Okay. Fine.
Ultimately, Jack Welch did nothing for my little company. But if I were meeting with him today, based on his cable TV appearances, I'd tell him he sounds like an whining old woman, and that I refuse to listen to anything he has to say -- even if he's overcome his stuttering.
Fuck you, Jack. Take our Six Sigma bullshit and shove it up your ass.
Love, Bill.
---
Response to trailmonkee (Original post)
Tue Oct 9, 2012, 09:33 PM
bluestate10 (10,345 posts)
10. That asshole was the king of outsourcing american jobs.
Welch didn't give a fuck about whether american workers could do the job, he saw more profits in sending their jobs to slave labor countries and pocketing the fucking profits. General Electric got a lot of press for performance, but the company's stock price languished under Welch while it lost it's historical advantage as a quality manufacturer of durable consumer and industrial products. Fuck Jack Welch, Welch is one of the fucking reasons why american manufacturing has been struggling for forty years. If that asshole croaked tonight he would not be missed.
---
Response to trailmonkee (Original post)
Tue Oct 9, 2012, 09:51 PM
winstars (1,307 posts)
11. "his wife Suzy," Oh, is that the writer and then trophy wife he was fucking before he divorced his..
first wife????????????

He is the Job Destroyer, not CEO of the whatever the fuck they call him!!!

Remember, he spelled the word ARITHMETIC wrong after the Clinton speech at the DNC...

SCUM
Fired up and ready to go---AGAIN!!!